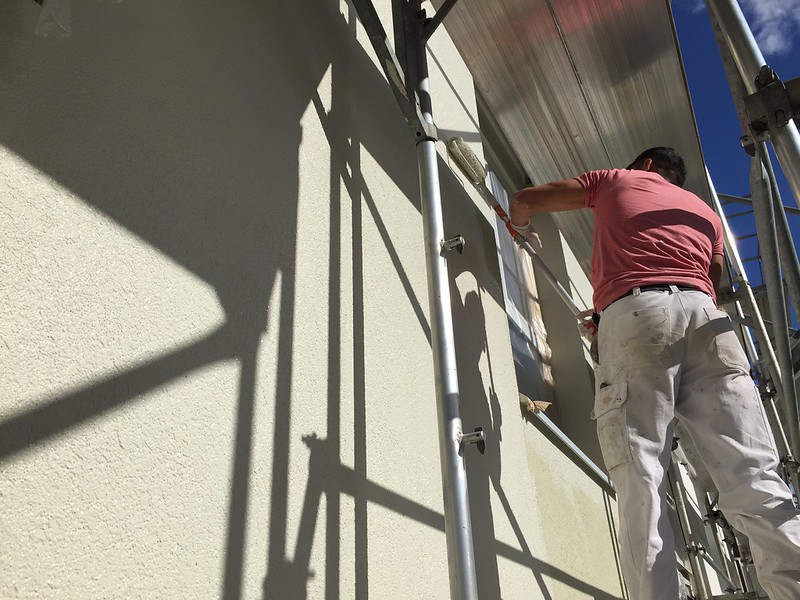 The colour is only superficial, it is what lies below the surface that is important. If your building is being painted green, why bother. It is nature's colour and so the painters slap the colour on with pride. No-one asked me what I thought, although entirely my own fault of course. There was a meeting and it was all discussed. Below the surface of paint we have new insulation and the real value.
The first meeting was a year before and it was agreed that nothing world shaking would be done. Just some patchwork here and there and a new coat of paint. It was all that was necessary. The expensive luxury offer from a building consortium comprising painters, insulation, and brickworkers was turned down: not necessary and far too expensive. The majority said yes. and so it was wiped from the table.
A year later there was another meeting. The committee of the original meeting had changed. No deaths, just people moving on to other places and a fresh younger wind was blowing. It was time to renovate, to change the 20 year old surface of the building. The vote said all those in golden oldie age have no idea, we are old fashioned. It has to look good, make an impression, even if a superficial impression. There is no way to stop the wheels of progress, and now at the end of this ordeal the final coats of green paint have been placed. All we now have to do is pay for it which are the facts of life and no longer anything to do with being superficial. The real sordid truth.
The final amounts are due next month, if they are final. Who knows? When everything is calculated there might be a little more to pay and next year? We wil have a nice new shiny expensive, superficial exterior. And the interior? Wait and see. But why worry,  it is the inside values that count.