It is Friday and our local builders are preparing for the week-end. It is the time when they have to get the weekly  tasks completed. Since Monday they have been designing and planning to paint a wall. The idea is that at the week-end they are gone, and we can watch the paint drying.
After my golden oldie sleep I awoke to discover four painters coating our outside wall with their paint rollers in harmony with each other. It was pure concentration, a genius has to concentrate. There was an interruption when one of the painters above was dripping paint onto his colleagues head below, combined with profanities, but they all continued regardless. It resembles the painting of the celing of the Sistine Chapel. The work must be completed.
I took a few photos to mark the occasion and moved on to the other side of the appartment. Here I discovered another genius at work with parcels of blinds to fit on the window. This is the result of perfect co-ordination. Mr. Swiss decided to take a "walk around the block", which he often does – out of boredom? No, he is inspecting the work progress. He returned to report that at the end of the next week the Picassos of our building will be leaving. I forgot to tell them to sign their work before they go. The blinds will also be completed and there will only be the finshing touches.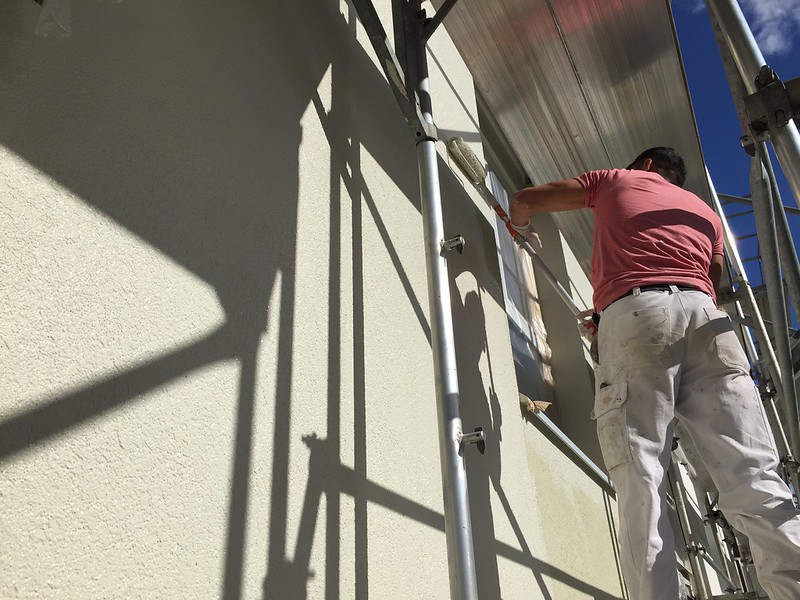 Everything now has a hint of green on the surface. I have never seen so many painters together painting a wall.  Perhaps they are competing for the Pulitzer Price in Wall painting.
In the meanwhile I have yet been subjected to my annual insult. The Nobel prizes have now been distributed. Yet another disappointment. The literature prize is always the last one to be given and did I win? My great work of blog again went unnoticed. There was no telephone call from Sweden that I would be required for the prize presentation.
I sit at my computer daily constantly completing daily prompts, but no-one notices. I have been ignored again. My only hope is the Pulitzer prize for my wonderful original photos to illustrate my prompts. My photographic tours of the surroundings covering everything from cows to ducks and trucks on the roads. I have a collection of cranes not to mention my clouds and all is ignored. What am I doing wrong, why does my genius escape recognition? They are all scumbags (excuse the expression), wannabe artists that have absolute no talent in comparison to mine.
There are many that deserve recognition for their talents and they are rewarded from the international juries. I congratulate all the winners and am really not jealous because they deserve their awarded prize. However, there are always those that leave with empty hands, with an empty place of honour reserved on their bedside table for that certain medal. I have a wonderful space on my living room wall where a certificate would fit, and it has been empty for many years. I hope they spell my name correctly when the certificate is finally established